Budget
Please send an email to kfs@umd.edu to request access to the form.
Please send an email to bfa@umd.edu, provide your UID and level of access (dept, subdept or account), and route through your college business officer for approval.
Please send an email to bfa@umd.edu, and provide details about the message you are receiving when trying to access the system.  If possible, please provide a screen shot with your message.
Payroll
The Payroll Online Service Center (POSC) is the State of Maryland's system where all active state employees and recently terminated/retired employees who are / were paid by the Central Payroll Bureau (CPB) can view/print 12 rolling months of pay stub information, the most 3 recent years of duplicate W2s, and update addresses and W4 exemptions.
Read more information about POSC here. 
Pay adjustments for current and active salaried appointments that require a corresponding pay adjustment should be calculated using a 14-day bi-weekly pay factor.  
Pay Adjustment should be calculated using a 10-day bi-weekly factor for all initial, new, or terminating appointments as well as for all salary additions.
Read more about pay adjustments here. 
1. To sign up for POSC, employees need their Agency Code and the last check/direct deposit advice number, which can be obtained from Payroll Services. Email Jeen Rajesh, Cathy Dougherty, or Regina Cain with the following information:
Full Name
UID
Last four digits of the SSN
Department
A brief note authorizing Payroll Services to provide the employee's last check/direct deposit advice number to access POSC.
2. The Business Services specialist will then send the requestor relevant information along with instructions for logging in.
Read more information about accessing POSC here. 
Employees: Take the social security card to your department's payroll processor and request the correction. 
Payroll Processors:
Access the employee record in PHR and go to the "Employee Information" screen
Click the link next to the employee's current SSN that says "Change SSN"
Add the new SSN, select a reason for the change, and add notes if applicable
Click "Save"
Verify the new SSN is correct and click "Submit to Payroll Services"
The process to change the SSN in all applicable campus systems may take 10-14 days. 
Once an SSN change request is submitted, no additional SSN changes can be submitted for that 
employee until the original request is processed.
Read more information here. 
Complete a new paper W4. For terminated employees changing their address for tax form purposes, the entire form needs to be completed and "Address Change Only" should be written at the top.
On Payroll Online Service Center (POSC), click on Update Address/W4 (Tax Withholding) (see below).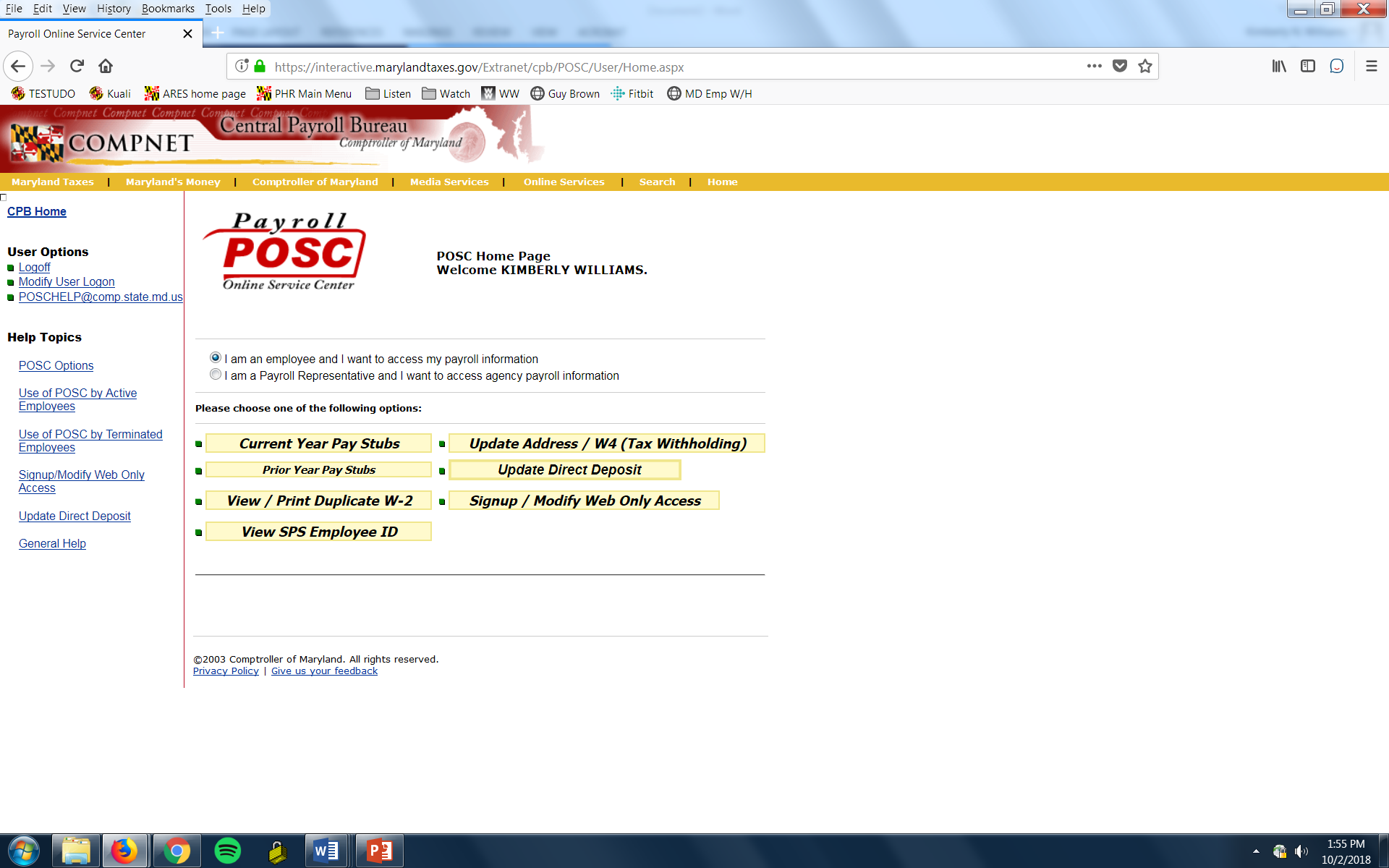 Complete the Pay Advance & Recovery form found here and fax to Payroll Services at Ext 58685.
NOTE: Day 10 (Day 9 on short pay period) is last day a pay advance may be requested to ensure it is recovered from next pay check. Same day checks can be cut on Days 9 and 10 as long as the request is received by Payroll services no later than 1 p.m. 
Read more information about the process of requesting a pay advance here. 
1. The State employee's salary is budgeted as an annual amount within a fiscal year. The annual salary is for 365 days and paid on a bi-weekly basis. The bi-weekly pay consists of 14 days. To arrive at a correct bi­-weekly salary rate, the annual salary is divided by the fraction 26.071428 in a non-leap year.
Payroll Calculation Example: 
Annual Salary ($36,000) / Adjusted Pay Periods (26.071428) = Bi-weekly Pay ($1,380.82)
2. In case of a leap year, there is an additional day (366 days in a year) so the pay period factor to be used is 26.142857 resulting in a further reduced biweekly rate.
A pay advance is only available when an employee will not be paid all of the wages they are due on a specific pay day. This could be due to their appointment being entered after the deadline, a glitch in the payroll system causing the appointment not to pay (Payroll Services usually will notify department's payroll representative in this case), etc.
Pay advances can only be 60% of the gross amount due to the employee. The checks will not be cut until pay day.  
Read more information about pay advance here. 
All active regular exempt and non exempt employees are eligible. 
Generally hourly employees are not eligible due to minimum wage laws.  For case-by-case analysis, contact Payroll Services.
Pay advances are not done for the following situations:

When the employee did not sign their time sheet
When the supervisor does not approve a time sheet by the deadline    
When it is the last pay for the employee
When it is for overtime only
Non standard one-time payments
Read more information about pay advance eligibility here. 
Financial Services
The AP unit has not had any documented procedures in the past other than the General Accounting Division (GAD) manual issued by the State. We are just beginning to develop written procedures as well as training for the campus.  The AP manager (Jacqueline Kilgore, 52644) is in the process of getting a focus group together to solicit input for the training. Please contact her if you are interested in participating.
Vendors should submit their invoices billing the University of Maryland, referencing the corresponding PO number to apadmin@umd.edu. Non-employee travels are processed by entering the request through the ELF form on ARES, the information will then get fed to KFS and an automated DV would be created. The department then should mail all original receipts to AP, not email. We are actively working with the State of Maryland General Accounting Division to explore initiatives to eliminate all paper.
The vendors can actually check the status of their pending payments via the link to the State. However, if someone in the campus office wants to know the status, they should add seven days to the Pay Date reflected on the corresponding KFS Doc, to determine the approximate date of issue, prior to calling Accounts Payable.  Check details can be located under the RSTARS Payment Information tab of the corresponding KFS Doc.
Below is an updated contact list for AP. The working fund is not handled by AP. The manager for working fund is Kathy Moody and she is at 5-2595.
Accounts Payable Workgroups Telephone Numbers

Reception Desk

52640

Jaci Kilgore, Manager

52644

Tatia Webster, Asst. Manager

52647

Mona O'Neal, Mail Desk
57541
Fax Number
57544
Quality Control, Customer Service Team

*Travel Expense Statements, Vendor Maintenance*

Copeland, Tina

52635

 

Production Team 

Pratt, Mary - Team Leader
52650
Vendors P-Z, Aspire and Bayard, All Subcontracts
Bowman, Michelle
52639
Vendors A-E, and Leases/Rents (lease agreements)
Mickles, Edna
52651
Disbursement Vouchers-Honorariums, Contracts, Discover, American Express, and Phone Bills
Spencer-Smith, Gerri
52646
Vendors K-O, Susquehanna, Roth Rock, Constellation and Pinnacle, Xerox
Thaivalappil, Sheeja
52658
Vendors F-J, Cardinal, Dell, Diners Club, Disbursement Vouchers back-up
Jefferson, Debra
55676
Vendors P-Z, All Subcontracts, Ricoh
Webster, Tatia
52647
All other Disbursement Vouchers and Petty Cash